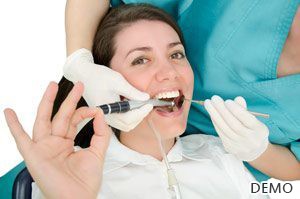 Are you in need of a checkup? Has it been a while since you have your teeth cleaned? Do you have a lot of plaque buildup on your teeth?
As an overall dentistry practice, we provide a complete array of dental solutions, from practical through aesthetic. Healthier teeth will be the base to get an attractive smile as well as better health.
Excellent dental treatment starts with visiting the dentist to avoid and treat dental problems.
The processes as well as practices employed for children dentistry vary from those of adults. Our staff of expert dentists offers dental solutions in a pleasant and affectionate way. It will help your children to look at dental appointments having an optimistic outlook.
Oral hygiene is essential to a person's overall health. In fact, problems that start out in the mouth can spread to other parts of the body.
A typical visit to the dentist involves a thorough cleaning procedure. Plaque, or hard deposits, are removed from the surface of teeth and even from the gums.
General dentistry practices sometimes offer some cosmetic procedures for patients. For example, veneers can be applied to teeth that are cracked, chipped, stained or damaged in other ways.
One of our goals is to help our patients when they are in need. We strive to see our patients the same day if they are in any pain. Emergencies are worked into our daily schedule. This may cause us to sometimes run behind on scheduled appointments, which you may appreciate when you have an emergency of your own.
The routine dental examinations are:
Teeth and gums examination
Screen for any signs of oral cancer.
Check all muscles which allow jaw movements
Offer advice on preventative care.
We also offer solutions for the avoidance of cavities (including sealants and fluoride treatments), along with remedies for gum disease, sensitive teeth and TMJ problems.
If many teeth have cavities, dental fillings may be used to correct the harm, preventing the growth of a more severe dental issue.
Now, tooth-colored resins are used to restore areas of poor or broken enamel. As well as repairing cavities, fillings in many cases are employed to fix split, damaged, or worn enamel.
As healthcare professionals, it is our pleasure to provide the services and procedures that can keep your smile at its best. Routine dental care is your strongest line of defense against the diseases that are most likely to damage your smile.
We offer a variety of general dentistry procedures that can be customized to meet the unique needs of each of our patients. Call us today at 253-839-4048